CANADIAN ONLINE GUITAR LESSONS
"Kerilie is an excellent guitar teacher and person. She was extremely patient and kind with my son. He really enjoyed his lessons and looked forward to them. If we hadn't moved out of the area he would still be going. I highly recommend her." —Jam Drones, Facebook review of Canadian Online Guitar Lessons
Get intensive immersion on the guitar for you or your child with private live video online guitar lessons and improve skills as a guitarist or songwriter faster! Learn excellent guitar playing habits with a teacher who can address and problem-solve issues for you as they come up for you as you learn and improve your guitar habits, technique/learning speed/skills and repertoire. It is important to avoid poor guitar approaches trying to study by yourself online without instructional guidance! Poor guitar playing habits are difficult to correct if they have not been addressed from the beginning by the student with a teacher.
Why are good playing habits important?
To avoid any injury, and all repetitive strain injuries. Poor or unaddressed technique problems slow down your guitar speed and abilities, interfering with your ability to make smooth transitions when performing.
Online guitar lessons by video livestereaming (Zoom, Skype, Facetime) with multi- award-winning Kerilie McDowall (BFA, Jazz/Classical Guitar Performance/Composition, York University.) Polaris Music Prize juror, recent JUNO Awards judge, DownBeat jazz magazine writer/contributor (2016-20), International award-winning short filmmaker, award-winning radio host. Workshop facilitator. Ask Kerilie if studio sessions are currently available for in-person studio guitar lessons and recording artist coaching in Nanaimo, BC.
Beginners are welcome.
All styles and ages 5-8 and up, teens, adults, seniors. Shown above in photo guitar student Joey Johnson.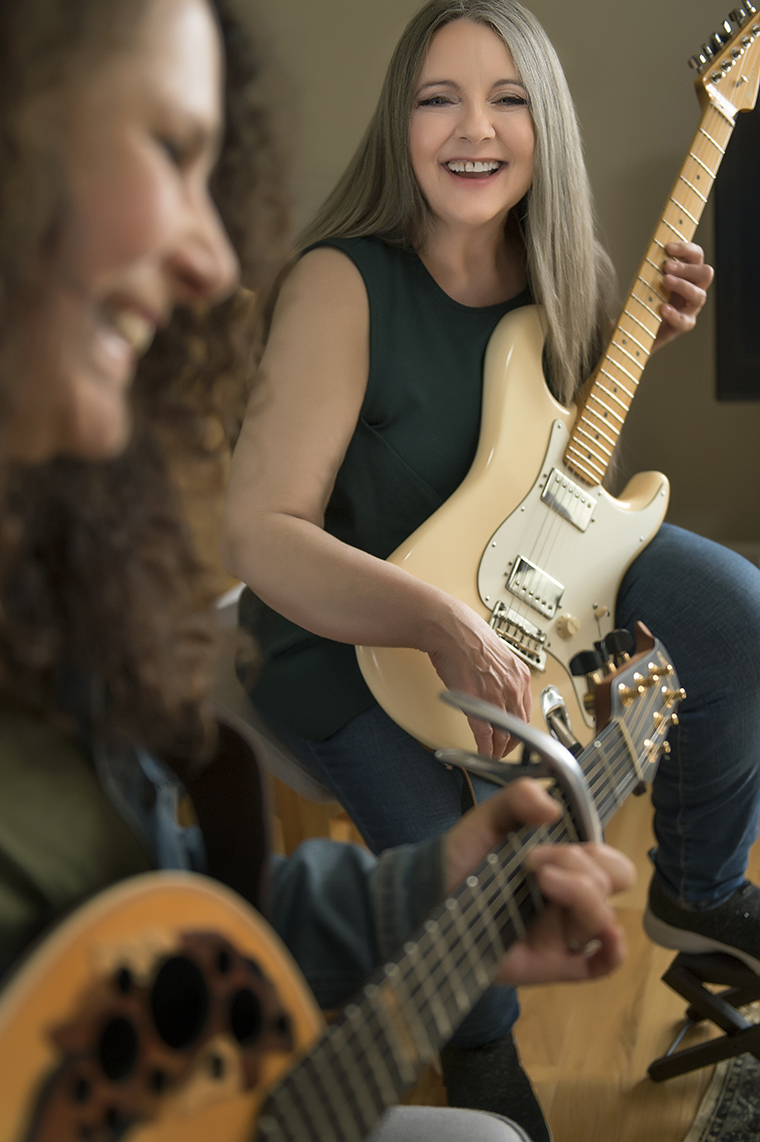 Learn how to play chords, solos and improvisation, songwriting, chart writing, sight-reading, Guitar TAB, Music Theory, Ear Training, music transcription, excellent guitar technique. Choose your focus.  Rock, Pop, Classical, Jazz, Country, Folk, Blues, Indie. Your style here. Above photo left: student Megan Fleming. Right: Guitar instructor Kerilie McDowall.
Kerilie McDowall spent a decade as a former Vancouver, BC jazz guitarist and is now residing in Nanaimo, Vancouver Island, Canada.
Images by Dirk Heydemann of HA Photography. www.haphotography.com. Image left: Megan Fleming, Right: Kerilie McDowall, instructor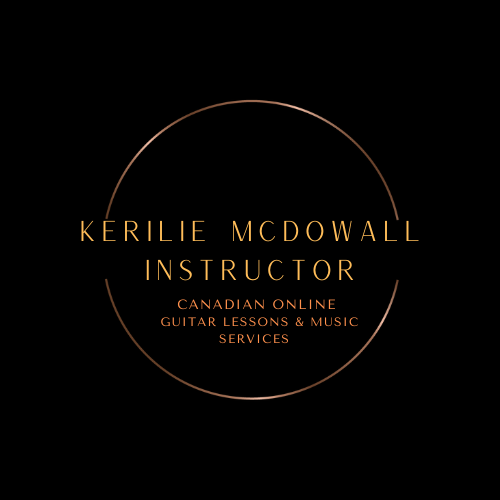 CANADIAN ONLINE GUITAR LESSONS
GUITAR, PRIVATE MUSIC LESSONS, TAB, SIGHT-READING and MUSIC THEORY
One Hour: ($60 CAD).  
SPECIAL NON-EARLY BIRD DISCOUNTS FOR LATECOMERS
Sign up TO START GUITAR LESSONS for two months and receive your eighth one hour lesson for free! Seniors and the disabled receive 15% off regular prices at $1 per minute CAD at all times of the year. Website suscribers  and seasonal registered EARLY BIRDS receive discounts.
Special rates for young children: 30 minutes (children 5-8)
Earlybird Single 30 minute lesson: $24.90 CAD.
Suscriber rate:  (Or sign up for  for eight lessons includes your eighth lesson FREE! Suscriber rate:  $174 CDN - 8 lessons at $21.75 per lesson CAD.
IMPORTANT MESSAGE TO NEW STUDENTS:
Why have I dropped my prices? Too many small businesses and Canadians are struggling with limited income and freedoms. Too many Canadians require a break right now. As a jazz artist I value freedom and I recognize that all persons globally deserve dignity and fair treatment. I want to make the absolute happiness and joy of music or mentorship always affordable for families. Rates of $1 per minute are unaffordable for most.  Rates are available at a sliding scale, and also if you have an abundance of income, let me know if would like to pay full or a higher price, or you can make a tip donation should you desire.
 It's about making music accessible for as many students as possible.
Interested in coaching or workshops? Email to learn more or visit WORKSHOPS.
Coaching services for recording artists, writers, composers and arts groups includes album release planning and management, self-publicity, preparation and assistance for television and radio interviews, interview approaches, industry guidelines, public speaking on radio and television, how to approach appearance on camera shots, makeup/reducing glare for videography, writing and media services, self-publicity, marketing, instruction and assistance to musicians on publicity writing: press releases/bio/EPK/one-sheet. How to approach written interviews and live interviews. Considerations for live TV and live radio interviews. Creating organic STARmeter ratings on IMDB Pro, etc.
Self-publicity/photography/distribution information, your music video/film on the film festival circuit, get access to a fab grant list, how to do international radio marketing yourself/how to hire a publicist and radio tracker.
Do you focus financial efforts on the USA scene or Canada/Europe music industry?
Find out the main reason why musicians fail at releasing their project to the media and why it can cost many thousands of dollars in record sales repeatedly, wasting your entire recording budgets over and over.
Where to set up a band website with credit card payments, merchandise and music services sales, blog and newsletter and even crowdfunding with your own Twitter feed! Why join PayPal or Stripe. Approaches to booking concerts succesfully with club managers. And much more.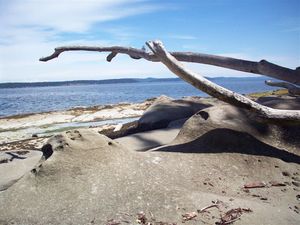 CANADIAN ONLINE GUITAR LESSONS: WORKSHOP/SERVICES INFORMATION
"Kerilie is one of those rare people who really understands music and art while also understanding how to share it in a way that is efficient and beneficial to both the artist and the art form. With her contagious passion and energy, she reminded me of the importance and meaning of this fascinating career path and the importance and value of hard work. Kerilie is deeply passionate about art and people, she is generous, inspiring and supportive and is a great source of knowledge, which are all qualities that contribute to her being an outstanding teacher." —Gentiane Michaud-Gagnon
(a.k.a. Gentiane MG)
WORKSHOPS (15% off discount for the disabled and seniors 60 yrs+)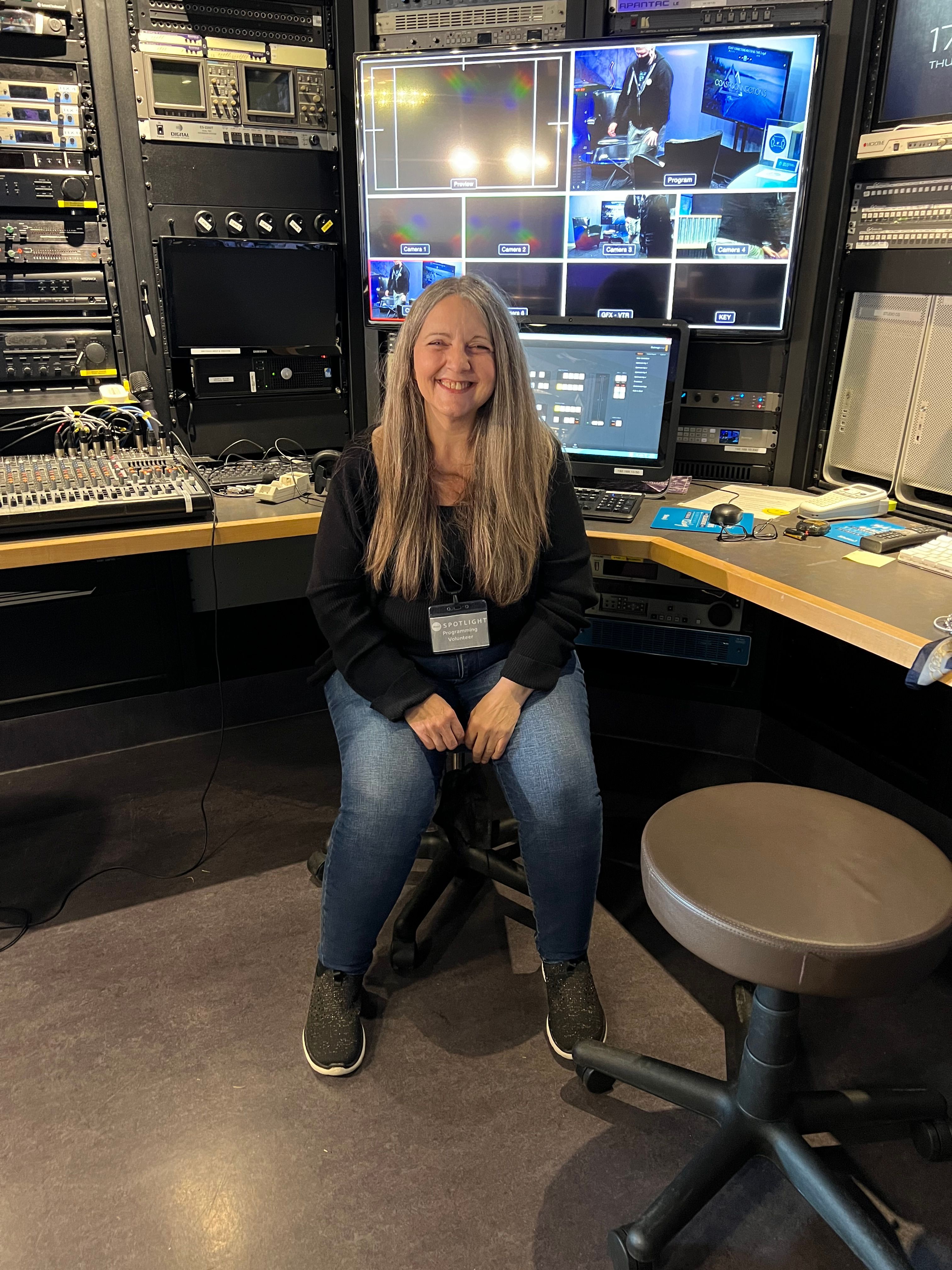 Pre-COVID-19, Kerilie McDowall was a contributing writer and music critic for the globe's top jazz magazine, DownBeat (2016-2020), USA. She still judges the DownBeat Critics Poll.  She has been a guest columnist for Canadian Musician magazine and written articles for INSPIRED and many numerous local Nanaimo, BC events organizations for many years. Kerilie McDowall assists musicians with accessing the Canadian/US media and Canadian/US radio market, learning about accessing the press through media liaison/radio tracking/self-publicity, Canadian awards deadlines (recording timeline /submission considerations) and more.
BOOTCAMP FOR RECORDING ARTISTS WORKSHOPS
Assisting musicians with promotions to the Canadian/US media and Canadian/US radio market.
Learn about techniques for accessing the press through media liaison/radio tracking/self-publicity. 
Learn about Canadian awards deadlines considerations (recording timeline /submissions) and more.
Kerilie started this service to provide education to musicians on nurturing their recording investment, after observing talented recording artists fail repeatedly, losing out on the crucially necessary self-publicity details needed for their recordings.
Materials, industry contacts and links provided within course materials and articles. Year-long release planning and study of the 2022 Strategy List for the North American Music Industry. Valuable grant lists, international strategy and more.
Images of Kerilie McDowall by Dirk Heydemann of HA Photography.
Intensive BootCamp for Canadian Recording Artists private self-publicity, radio/tv/print/film and media liaison rates:
"The Triple" Yours for 3 hours daily (15 hours) $1875 CAD. *3 hour increments can be spread out for your schedule. (Suscriber rate:  approximately $1687.50 CAD for suscribers.)
"The Double Double" $1250.00 CAD** for daily two hour coaching sessions with Q&A for a five-day week workshop.(10 hours) *2 hour increments can be spread out for your schedule.Approximately $1125 CAD according to exchange rate for suscribers.) For two hour daily intensive Bootcamp for Recording Artists workshop of 5 days. (10 hours) 2 hour daily increments or as desired.)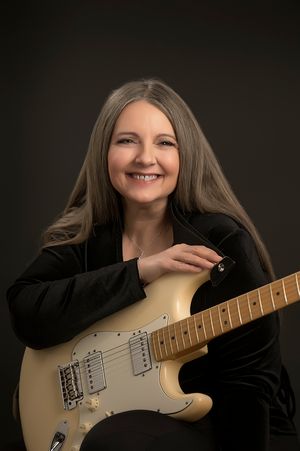 "The Double Workshop" $750 CAD for a two hour daily intensive half week workshop of 3 days. (6 hours) (Suscriber rate: $675.00 CAD.
"The Single" $125 CAD one hour rate private coaching.  ($112.50 for suscribers.)
Exclusive individualized private music, songwriting, and writing coaching and contacting the press liaison service packages.
WRITING RATES
Additional writing services: EPK writing coaching and assistance: One-sheet $249.99 CAD, ($237.50 suscriber rate), Press release $499.99 CAD (suscriber rate: $450.00), Biography 1 page $249.99 CAD (suscriber rate $225.00), Biography 2 page ($399.99 CAD). Writing:  writing and style techniques coaching and/or writing services. One hour $224.99 CAD 2.5 hours $449.99 CAD 3 hours $ $599.99 CAD
2.5 hour Introduction to Writing workshop $349.99 CAD($315 suscribers)
4 hour Writer's Workshop $499.99 CAD($450 suscribers)
Individualized industry assistance. Record label and film distribution pitching video-presentations and document creation.
McDowall as a writer creates biographies, press releases, reviews, social media and website writing content and album liner notes for established and emerging musicians.
Prices above in Canadian funds. Weekly part-time coaching and publicity and media services: 15 hours. (Approximately $3374.99 CAD according to exchange rate.) *****As a publicist Kerilie has a 500 contact North American publicity list she mails out to.***** BUY SERVICES NOW AT THE STORE
NEW AND PROFESSIONAL RECORDING ARTISTS AND ASPIRING STUDENTS
Canadian Music Industry Bootcamp for Recording Artists: a fast immersion private or group workshop for emerging recording artists and aspiring music students includes an extra one hour of private or group coaching and 30 minute Question and Answer session at $299.99 CAD (3 hours total).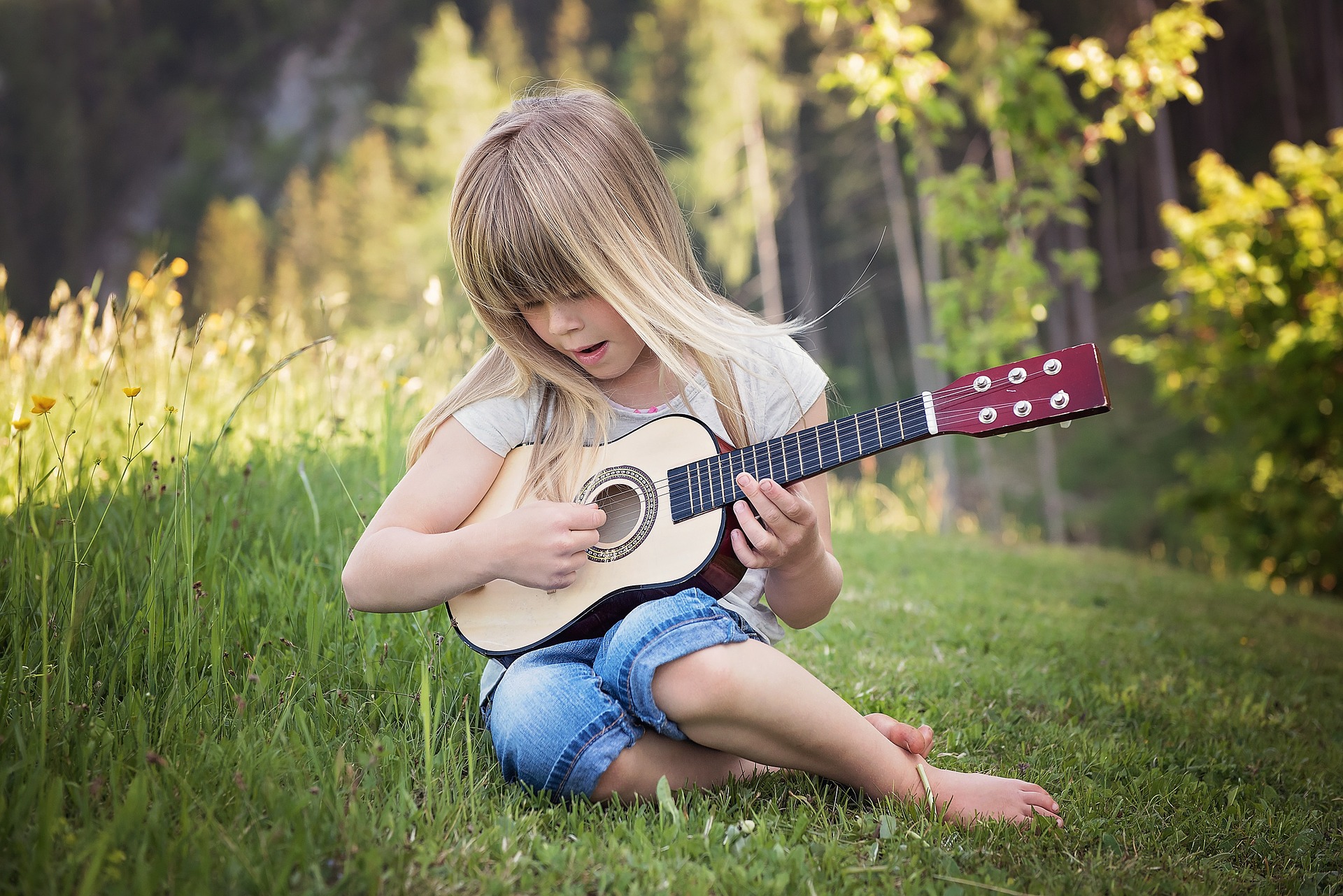 WRITER'S SESSIONS  
Kerilie also offers writing mentoring workshops and coaching to aspiring writers. Inquire about a 2.5 hour private writer's session $349.99 CAD per person. (2 hour workshop  30 minute Q&A.) She also offers a 4 hour workshop at $499.99 CAD. She works with coaching writers (magazines/journalism) and songwriters/composers (music) and coaches recording artists, creatives and businesses about media access, radio and  music industry techniques from interviews, on-camera work, radio interviewing, camera shot framing directing techniques, performance/hosting, makeup tips/techniques, portfolio/EPK, class for Youtubers and more. 
POPULAR SONGWRITING WORKSHOP
In depth immersion into songwriting and composition for beginners. $499.99 CAD per person - 4 hours.
GROUP SESSIONS FOR BANDS, STUDENTS, DISABLED AND SENIORS
Canadian Music Industry Bootcamp for Recording Artists: a fast immersion 1.5 hour group workshop for emerging recording artists includes an extra one hour of group coaching and 30 minute Q & A at $299 (3 hours total). Schools and larger educational groups, seniors and the disabled groups are offered negotiated discounted group and private or sliding rates.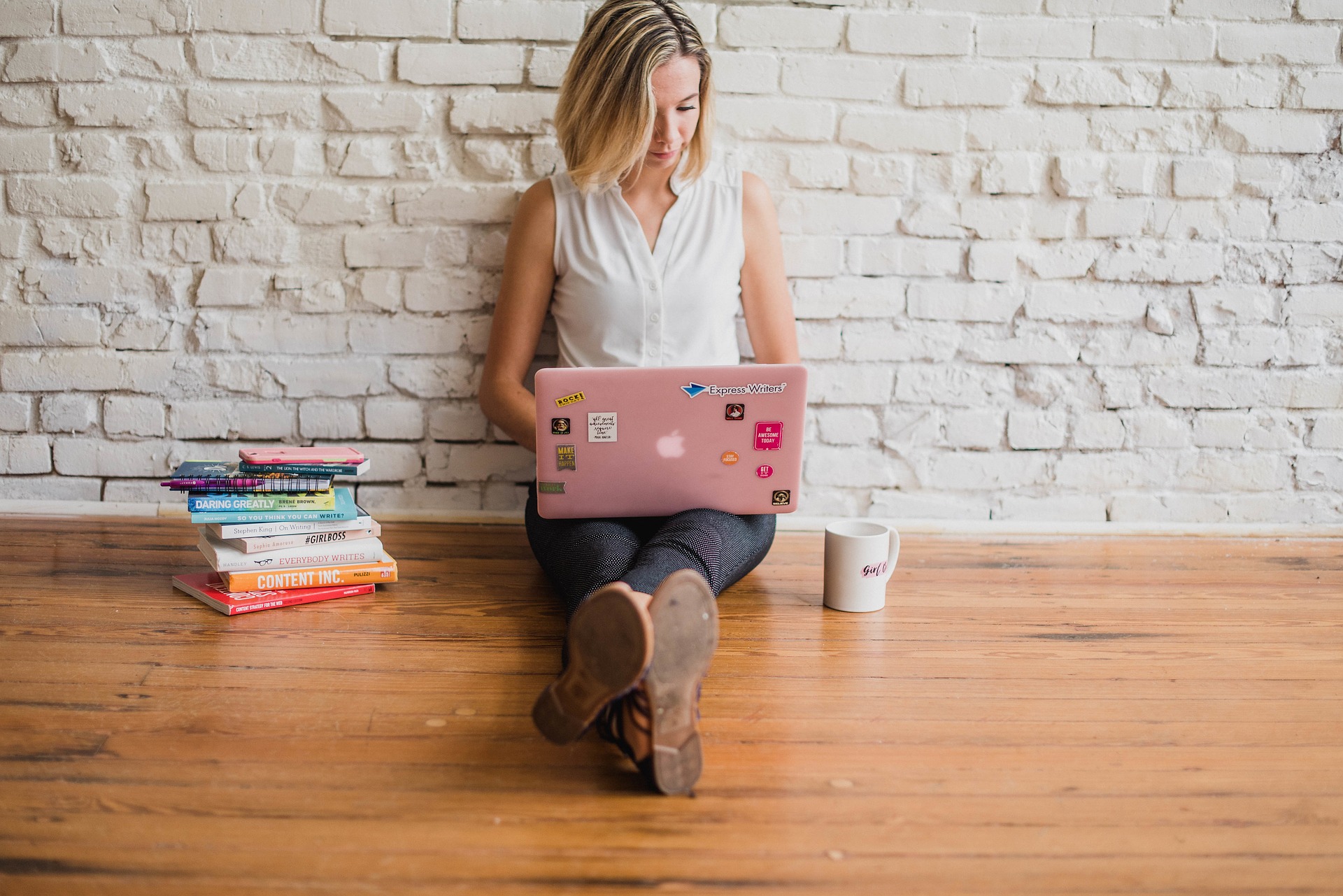 OTHER SERVICES FOR MUSICIANS 
McDowall as a writer creates biographies, press releases, reviews, social media and website content and album liner notes for established and emerging musicians. 
PRIVATE COACHING
For Musicians, Songwriter/Composers, Recording Artists, Beginning Filmmakers and Writers
McDowall offers exclusive individualized private music, songwriting, beginner film, writing coaching and media contact liaison service packages. Private coaching services 15 hour price: $3749.99 CAD  per 15 hour week, with negotiated rates for part-time work and shorter projects. 
3 Hour Price: $299.00 CAD. Suscriber rate: $270 CAD for suscribers. 
REGULAR WRITING SERVICES 
For non-instructional writing services there is a sliding scale for general music writing fees (all genres) at $90-$249.99 per hour as negotiated depending on duration and type of project. BUY NOW FROM THE STORE